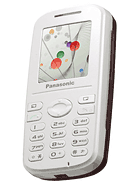 j
i got the silver one and it's cute; i got all the basic features i need and i guess i wont be replacing it until i see a reasonably priced 5MP cam phone out... ok then perhaps 3MP would be fine... for now im still lovin this phone
J
Totally cute, but won't you'll soon get sick of it cuz of it's boring features. Cool light thingy and i love the size of it. It's like having a house with basic furniture and no decorations! You'll soon move out dude!
M
the phone is so cute and small ... everyone even those who use the wery expencive cellphones, the back color is a little girlish and if i ever get that comment, i make up something like it was for my girlfriend or things like that ... but i like th white color of the front skin ... in the first look people say "is this a new iPOD?" and it's really have some of the major characteristics of iPOD and generally it's a great match with ur apple ... there is a problem ... which is the donwloading ... no ringing tone ... no wallpaper ... no infrared ... but great design and fine looking OS ... which is beating any other cellphone ... even is u spent 10 times higher to buy a luxury cellphone, also u can't get such a menu and design .... at least not untill now!!! panasonicbox need to be more useful!!!
?
aahh this phone looks like a bar of soap, i want to wash myself with it
S
U can't record ur voice with this mobile, can somebody tell me how to get new ringtones and wallpapers for this handset.
r
Can I use this handphone to record the sound or some music?Hope someone can tell me the answer!Thanks...
X
I just buy this phone, can anybody tell me how to install ring tone into the phone?
s
just bought it and think it's not bad for about HK$880! I am looking the web-site to download some "real sounds" of ringtone, anyone can help! Thanks!
C
been a cellphone user for 10 years and this is my first non-nokia phone. i guess it's alright. it's got all the basic features i need. the only downside is that when i download any add-ons, i have to connect to wap, which will add on to my download cost. why couldn't they just keep it simple like nokia?

the illumination thing is cute but really... do you need a light indicator to tell you what emoticon that is? this phone is probably most ideal for young highschool girls. if this unit didn't look cute and i didn't feel so strongly about trying a non-nokia unit, i'd have gone back to nokia.
a
how can there be votes on performance by users if the phone is not for sale yet?
--see voting results--
Total of 71 user reviews and opinions for Panasonic A210.