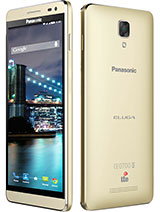 A
Should i go for it i mean only 1 ghz processor can it handle multi tasking smoothly
M
I Bet you, with this price no other brand company ph can give you this kind of features. For 8500rs/- samsung and Htc giving you 4.4.1 kitkat, 4.5' display, 5 & 2 Mega pixal camera, with 3G support.

and i have purchased this phone for 8000, 1gb ram, 8gb hard dic, 5.1 lollipop, 8 & 2 mega pixal camera with 4G support .


The ph is awesome u can go with it.
D
Eluga I2 is a new 4G smartphone from panasonic. This phone comes in stylish gold or metallic silver colours. This phone has got lollipop OS as well. The rear camera is 8mp and gives nice results. This phone's front camera is only 2 mp which needs good lighting for better results. Processing speed is okay and battery backup is normal.
Overall this phone is a nice choice below 8000 Rs.

?
Good looking phone from panasonic this will be my next phone.price is only $132.
A22040
Who makes phones with 8GB on board now a days?
This is way too low, even for a budget phone......
D
Better you sale first phone invented back in 90's, so you atleast get some sales for being number one in selling old phones.
?
Panasonic never give up smartphones he left europe but remain number 2 phone maker in japan after sharp corp.And made very good top spec smartphones in japan.
?
Re-entering smartphone market after giving up in 2009. Good luck catching up 6 years of technology. The front of this phone looks like HTC. The back, especially the camera look like Samsung. The rear speaker look like Alcatel. However, no one will bash Panasonic for that.
Total of 113 user reviews and opinions for Panasonic Eluga I2.