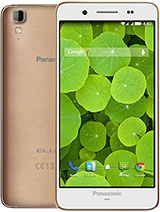 R
Nice..phone at this price..10000..am happy with this phone & camera is exclent at this price...& screen quality is awosome...u can buy is phone its better than lenovo k3 note..& look very cute...i like this phone☺☺☺☺☺☺...
T
this phone is good but guys it has battery issues and it over heats ALOT
?
AnonD-436104, 02 Sep 2015Panasonic eluga Z is the most stylish phone released from panasonic. This phone has got AMOLE... moreIf we want to go with the budget of 13 k xiaomi stands at its best...Today only I have bought eluga z white colour and I stand all like a loser with a very low resolution screen ..so please don't misguide anyone.. With 2 gb ram it still cannot be called a smooth phone.
H
it should have been 4G then it was awesome in all brand . this is the one biggest demerit in this, that this is not 4G
D
Panasonic eluga Z is the most stylish phone released from panasonic.
This phone has got AMOLED display which is awesome.
Processing speed is okay with octacore processor and 2GB Ram.
Regarding camera, this phone is better than samsung galaxy A5 which has got similar design and high price. Both front and rear camera give better results than samsung A5.
The video recorded on this phone just wows us, what a quality.
The nicest part of this phone when compared to A5 is that, this phone can be used with one normal sim, one micro sim and memory card together. But A5 dont have an independent card slot.
Next thing is this phone have got OTG support. But A5 dont have that.
Also this phone has got removable battery as well.
Overall this phone is a super phone withing budget of 13K.

And regarding battery, this light weight phone has got only 2050 Mah battery , so its better to adjust with it by purchasing a slim powerbank as well.

K
Metro , 14 Aug 2015please don't bye this phone even if you're an moderate user.Battery backup of this phone is a ... moreWhat about the front n back camera clarity
Total of 52 user reviews and opinions for Panasonic Eluga Z.