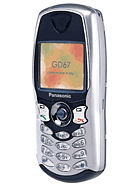 F
I think this fone looks great!! Excellent features too!
A few gripes though..no Infra-red port???!! Watta shame.
I wonder if it's got any data link cable as well...dunno if it's got an organiser function...
Otherwise it's truly a well designed fone, can't wait to get my hands on one.
D
This fone has some really coool features, it's time to leave changeable facias behind, they're all done for. Buy it - out this summer.
K
ohhhhhh... myyyyyyy.... GGGGGGGGOOOOOOOODDDDDDDDDDDDD!!!!!!!!! [droollls] all panasonic phones put nokia to shame... i think panasonics products are much better than sony. this phone will be BIG!
k
Dear sir,

I want to buy your Mobile phone so, can you please send me the complete rates of the Mobiles alongwith their Photos.
I shall be very thankful to you
Kumo
M
This phone looks beautiful, now someone please inform me of it's dimentions.
k
i love this phone! and all the japanese phones. someone tell me the when this phone will be introduced?
Total of 567 user reviews and opinions for Panasonic GD67.