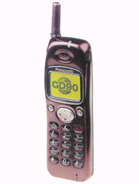 E
It is a great phone but there are better ones for the same price now a days.Very light,pointless graphics screen,lack of functions...even though it is ok for its price.
C
I don't like this phone ...
I own one, and it's baterry only lasts for one day, and i don't speak much
The vibration is very 'light', the sound quality is poor, and the ringtones aren't very 'noisy'
My advice is that everyone who get's to choose from Gd90, and Nokia 3310 (cause the price is almost the same), should take 3310
A
Respected Sir,
Kindly provide me solution for hang problem in mobile phone Nokia3310.any try to provide some more solution for mobile phone.
Thanking you in anticipation,
Best regard,
Anil.
Anil K Singhi.
India.
MObile no:919830144990
D
It is a really good phone, but the only thing that i am really disappointed with is that it can't have all the cool ringtones that Nokia provides. With panasonic you must do it yourself, but with Nokia you can actually send the ringtones through the phone, it's much easier, faster and better overall.
V
No way to insert the ring tones text in to my gd90 hand set.Please let me know how to insert ring tones.
P
have to say, I am a big fan of panasonic. This is a stylish little phone if lacking in the options departments that Noika users revel in. I thin reception is better than Nokia but my main gripe is with the battery life. No way does it last as long as Panasonic claim, never mind, after looking at the reviews on the gd93, I reckon i am updating to that anyway. So long trusty gd90
z
please, pleasde email me an operation manual for panasonic GD90 phone.
I cant get it anywhere. thankyou very much.



Y
The GD90 is a good looking, solid, very light phone. However, the battery is a little short on life span, and the memo recording facility only allows the person on the ever end's voice to be recorded (not to mention a tiny 30 secs of recording space).

I found the menu interface better than the Nokia 3310, and also thought that the available ringers were marginally better as well (although both phones suffer from a terrible selection of available rings).

There are some features on the phone that are can only be described as irratating novelties (2 colout backlit screen, one-direction memo recorder, call group chat, etc).

Lastly it suffers from lack of customisation that is availale with the 3310, although the GD90 is an older phone.
C
With all the publicity it got I thought that this phone would be great...it is absolutely rubbish...needs charging daily, low volume ringer, fragile....RUBBISH
s
Despite the fact that this phone is very light and that there is a vibration alert I really think that this phone is not as good as I thought when I got it; I need to charge it everyday though I don t speak much! I can t dowload ringtones or even logos from the net. The basic melodies aren t very nice!
Thank you.
Total of 95 user reviews and opinions for Panasonic GD90.