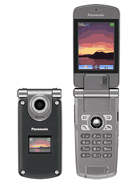 p
damn you panasonic. every time i buy your flagship phone, one month later you go one better. now i buy x700 and you announce the vs and mx series. at least this time you are going ahead of the rest and not just matching the others. my money is yours once more.
G
WOW !!!
I am a Panasonic fan, like to buy all the nice stuff, & this phone ROCKS ! does somebody know it's price & availibility, especially, in India?
I believe if Panasonic launches all it's products in India, Nokia, Sony will have to think. 7 surely, in mobile phones, Panasonic will lead. I had been using Nokia, SE, Motorolla, but finally now I am using a Panasonic phone. I am fully satisfies with the speed of navigation, ease of uasability, & intelligence software (OS) of Panasonic mobiles.
Will buy this, if avail.
f
i will like to buy your phone online.i hope to hear from you soon.thank you
D
16 M colours.2 MP,?????? STAR TREK I am waiting this phone.I don't care about the price!!!!!!!!!I will have it! All others are too much under!
R
It looks like a great mobile phone.

When i can expect the unit? Do you know something about the relase?

regards

Raven
Q
15m colurs...wow...that is heaps...this is gonna cost heaps!!!! over 1500$ aus
E
I had previously posted my opinions about X100(bought one month ago). Now I regret buying that mobile!! Panasonic series anounced during World Congress 2005 are challenging...
t
i see that panasonic goes up to #1 by 2 mp camera and 16m color.these r important for me and talk time is 10 hour!!my darling likes these:)i hope it has bluetooht and large memory too,my old love panasonic is getting alive!!!thanx 4 japanz
Total of 153 user reviews and opinions for Panasonic MX7.