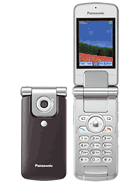 D
Do anyone know if the video recording is with audio as well? Or else it is seriously pointless!!!
e
can anyone tell me how's the battery life for this phone please? i really love this phone but im really worried that the battery life would be as bad as X800..thanks!~
?
Great phone.
Very easy to use. The screen & camera very bright & clear, who needs a camera?!!!
C
As one of the previous reviewers noticed right, VS2 has no flash for the camera. That is why this phone is not going to be even worth to review, unless Panasonic will bring the price of the phone down, to about $200.
W
What the heck is going on here?
1.3 megapixel camera and no Flash?

Is Panasonic trying to copy Samsung p730
( reduculous price phone without a flash!)

SECONDLY:
1.3 megapixel , even if it has a flash should not cost today more than $250!, because we already have 5 phone models with 2 mp camera!!!!!! Sharp TM200, Sharp 902, Sony k750, Sony w800 and Nokia N90!!!!
?
This VS2 has got rounder & smoother edges than the VS3 & hence feel nicer in your palm.
Personally, I think it is better looking than the VS3.
M
It is almost the same as VS3 but:

With it's a brilliant 2.2 inch QVGA TFT LCD screen with a living kaleidoscope of hues (all of 16 million colors*), the VS2 simply smolders with pure intensity. Even under strong sunlight, the phone display remains just as bewitchingly vibrant, thanks to its advanced LCD software processing, powered-up backlight and its impressive 300 candela per square meter (cd/m2) component.

SOURCE:
http://plemix.com/Merchant2/merchant.mvc?Screen=­PROD&Product_Code=10019&Category_Code=





G
its just a litte smaller and rounded not straight edges a little more girly
Total of 471 user reviews and opinions for Panasonic VS2.