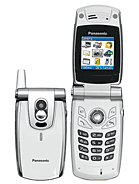 l
This phone has infra-red, so does that mean i can use a bluetooth head set with it?..can someone please let me know asap...tnx
?
Saw the phone yesterday. Quite big in size and small screen too. The automatic opening system looks very cheap too. Don't buy it.
?
does anyone know if it's triband? i read somewhere else saying it's dualband
E
I think the phone will be out on Q3 to Q4, I 'de like to correct the info regarding the Infrared port....it has an Infrared port....above the LED..below the mirror...get it. Why I know.....secret...It is a very good phone compare to the others on its level.....the X700 might be the flagship but I rather buy this X400.
j
can some1 let me know when this phoen will be out? it's really cute and i want to buy a new phoen right now. thanx
B
i think that this fone will be a top hitter on the market as long as it getz advertised in a appropiate manner then panasonic will have smashed it the sick guys.got doe coming out there bund.machaude,penchaude dali maa nu lan lenie.pg
P
I hope they will release it in Europe. I was planning to buy the X700 but as it is the flagship of Pana, the price will be too high for me. The X400 will be available at an affordable price.
Total of 172 user reviews and opinions for Panasonic X400.