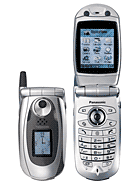 R
i really want a panasonic x700 can you get one for me on pay as you go immediately i am willing to pay as much as you want.
?
looks very good but looks can be decieveing! i wont be impressed until i see the handset.
s
what the hell is wrong with 262k colours the gx20 still pisses on your fire and god help wat the gx30 will do. i bought the gd87 when it come out, i thought you had the tricks panasonic , but you obviously dont
Total of 769 user reviews and opinions for Panasonic X700.