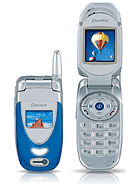 C
Nice phone for a girl like me. Not much to complain after 2 months of owning. Although features of my G500 was better.
S
hmmm, i own this phone, but it isn't really that gd u noe? no infra n u cannot even download games as hardly any servers cater ringtones n games 4 this brand of hp... so if guys out there, really wish 2 buy this phone, really do consider... it do not haf any infra red or bluetooth functions... juz haf a pretty gd camera wif strong flash light... thats all i wan 2 say... =)
A
can anybody tell me about this Pantech g600, you know, memory, camera, vedio features and all...
Total of 24 user reviews and opinions for Pantech G600.