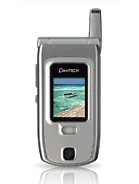 J
I like the setting that we can actually use the video we took for the theme setup, which most of the mobile phone don't have this setting. However, I do want to know if there's way to retrieve those videos and photos saved in the mobile phone.
v
real nice phone!!
1 little question.. will this thing work in europe/holland.. i really whont this phone but i have no clue whot so ever if the software is capeble of working in holland.
we are on 900/1800 netwerk but that does not say anything does it?!

if you know, please let me know!

thx
N
Is this phone have a bluetooth connection ?!

b
any idea when is this phone gonna b available in singapore?
a
pantech have model whit tv
k
Well this phone is a New line out from Pantech and not only does it have a 262K dual LCd screEn ,Photo/video caller id .It comes with a 0.3Mp camera that would let u set the resolution to 640*480 and comes with many effects like warm ,sepia ,antique ,cool,moonlight,Fog,negative,greyscale and embossi in addition it lets u enhance your photos with Frames and emicons after u have taken the pic >>So fun !!But the really cool feature is to have the temperature device inside which would be able to let u check your temp in these times of Bird flu and sars .....its capable to take up to 243 pic based on LCD mode.
s
first to post my opinion.....yeah!! but.....no much opinion abt this fone.....:p...wad 4 we nid a thermometer in a fone?
Total of 8 user reviews and opinions for Pantech G670.