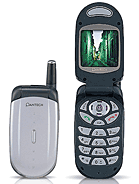 r
its a great phone but i want new rongtones and logos, where can i download?
c
somebody can tell me what kind of games you can play on this cellphone
J
Its an excellent phone but it has one big defect! you cant write messages with t9 longer than 70 characters!! and that sucks!!!
?
looks excelent!!! in desing and performance. it's small & compact!!
?
looks very nice but how does it perform
Total of 47 user reviews and opinions for Pantech G700.