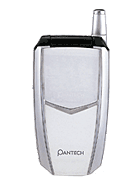 ?
Beautiful,small,good battery life,software and cable is ready to manage your handset.

Unfortunately we cant upload JAVA MIDP programs on this model and SMS can save on sim card only and about other problems, when you sent some SMS, there is no logs on outbox folder to check how many message did you sent, you should save it manually be four sending SMS!
n
1 st and only one ! LOL
T
1st opinion!
cool phone!
Total of 3 user reviews and opinions for Pantech GB100.