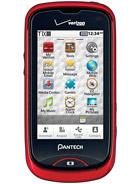 ?
I have been using cell phones for almost 20 years. I have been in android and apple phones since. This is a the most buggy phone I have ever had the dis pleasure of owning. Touch screen is terrible. Phone hesitates and stumbles whether you are texting or dialing a phone number. Resetting does not help. I fired a bullet through this phone and then burned it in a fire. Who ever made this piece of garbage deserves the same treatment. Because nothing ever leaves the internet, my dream is for the creator to read this review and realize he needs to be a sign spinner on the corner of a gang infested neighborhood during a power failure. Get the point?
k
Yeah it's the worst phone you could possibly get ever no not get do not try to make it work it shouldn't exsist I hate it with a burning passion!!!!!!!!!!
?
This is the single worst phone I have ever had the displeasure of using. It makes me want to roll over and die. It can handle one word in a text. Sometimes, even two. Once you reach the third word, the phone acts like you just pulled a gun on it, freezing for around 5 seconds. Then, it throws a random-ass letter in, whether it has been typed or not. The equivalent of throwing its keys at me, after I've held it at gunpoint. I hit backspace, to get rid of the gibberish letter. It blacks out, deleting all of the letters in the whole text. I slap it awake, rinse (waterboard) and repeat the entire process. The only thing I have found that helps with this phone (bane of my existence) is that when it begins to freeze as you type a text, if you punch the phone with about twenty pounds of force, right in the middle of the screen, it will accept the letter. Not even joking, it seems to work. I hate this phone. SO MUCH. so much.
a
same bad experience here. phone shut-off when try to use it with my care bluetooth, screen freeze with no apparent reason. went through 4 replacements in 6 month. piece of @#&!%
?
Have had this phone for over a year, and have a shattered screen, no battery cover, and still another year to go until upgrade, and I'm stuck with this piece of crap. Screen freezes and glitches up frequently. Phone also randomly restarts its self at least 3x a day. Text messages automatically delete, and text memory fills up and makes you delete messages before you can send one. About the only positive thing I can say about this phone is the battery life is pretty good
?
this phone is horrible it shuts off and on multiple times a day and freezes a lot
?
i had all the same problems went threw 3 phone before i got 1 that works half way right

K
Seriously this phone is awful. I read awful reviews about it but blew them off and got it anyway and it's really really terrbile seriously don't do it. The screen freezes, my phone resets multiple times a day in the middle of calls/texts, it's impossible to get anything done with it. Also, the screen shatters really easily. Just saying.
?
whenever i make a call where i have to enter an account number or a pin for my voice mail, the touchscreen goes on and off making it almost impossible to access accounts or voice mails. The screen also locks up.
No one would want to go through all this hassle with a cell phone
?
Its the worst phone I have ever owned.The touchscreen freezes right in the middle of texting. constant problems that make having a cell phone more of a hassle.
?
I just got it today but by the way people are making it sound like the "Windows Vista" of phones is making me nervous. For me it works just fine
J
Anonymous, 07 Dec 2011Does anyone know if you can block certain callers with the Hotshot?? Had mine for 3 weeks ... moreYou can block numbers on the verizon website, he block lasts for 90 days, and is not dependent on your handset.
Total of 14 user reviews and opinions for Pantech Hotshot.