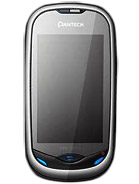 M1367164
Touchscreen feature phones seem to always have the 240x400 screen resolution. It's really creeping me out.
J
I have had my Pantech for many years, and i have the same problem, it will not shut off....I want another one, but it has to be one that i can afford...any help would be appreciated...
a
this is a really good phone my phone won`t turn on
how can i fix it because in my country KOSOVA there is no mobile shop that can fix this phone please help me tell me how to fix this problem please
A
I use this phone more than a year, but unforetunatly in my country (Serbia) PANTECH is imposible to buy, cause no one import Pantech products here... but anyway, I was purchased this phone in Italy, and use it with both sim cards, and all I can say is - perfect! Design is very cool, and it's easy to handle with him. This is not a smartphone, so he don't have many advanced functions, but if we compare the price, desigh, quality and handling for P4000 with some other brands, Panthec is probably one of the top 5 phones... I recomended this product for people who wants a clear connection during the voice call, and stability in work. At the end, this phone looks very fancy and stily!
T
Dual sim feature of a mobile phone is very common here in our country
V
Nice!

Some of the BIG NAMED company haven't even attemped the DUAL SIM.

Nice job.

Always on the look-out....

VIP
Total of 11 user reviews and opinions for Pantech P4000.