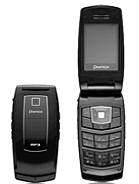 ?
Have returned my PG1800 three times for battery problems. They give me new phone replacements, but it's always the same problem. Discharges overnight (good signal), if it has 4 or less bars before going to bed. If I don't recharge it just before going to bed it wakes me up with dead battery alarm. I hardly use it, rarely more than a call a day. After fighting this problem for 2 months including 4 weeks of service delays, I´m going to try to get the carrier to give me credit for a Nokia. If not, I'll just consider it a loss, and bad mouth the Pantech spec lie every chance I get.
R
I have this phone, it's a good phone in general, you are able to save music, ringtones, videos, plus PPT, PDF files, word documents and more.
You are not able to view them on the phone but it will work like a USB flash drive. The battery life the phone has is aggravating because is like one bar per call, if you have it in stand by mode and don't use it, the battery will last a bit more. It has great sound, the speakers located on teh upper back part of the phone, will outshine any other phone. I have to give the phone that, it is louder the N95, HTC touch, among other phones that I had expirienced.
I could say that the only thing you wil like off this phone is the battery life.
?
I have a pg 1810 that is basicaly the same thing and it works great. Awesome Mp3 sound. Its great if you are into music. The downs are that it has bad battery life. But over all its a great Phone.
?
at first it looks kinda wierd with its jagged edges, but now that i look closer, i want it bad lol.
Total of 10 user reviews and opinions for Pantech PG-1800.