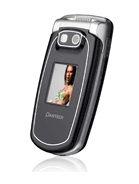 o
I'm a burkinabe!And i use this phone mobile!I vote this thaét it's a good mobile!In my country many men's using this mark"Pantech"!My mobile have a problem like when my friends calling me i can't see his number and it's the same like sms!My LCD screen doesn't fonctionning!Please could you repairs this for me!Burkina faso is African country!Pantech it's big different"Please help me!My mobile is"Pantech PG-3500!THANK!My all number are +22676600500 or +22678855303
s
got mine for 20 euros in france via bouyges.

pros:

. nice list of features

. beautiful slim chassis

. headphone connectivity = standard mini-jack (2.5 mm)

. bluetooth works well

cons:

. proprietary click-in connectivity to charger (hard to find phones that don't have this drawback anymore)

. i don't like the software, here's why:

. the navigation is not terrific

. the T9 predictive text input in french is awful (it was much better on my old motorola phone)

. can't customize image on outside screen

. i think it has a bug: i have version 1.0 of the software, and it rejects my TransFlash (micro SD) card. so i have no external memory. i'm sending it back.
has anyone else had this problem?
has anyone successfuly used external memory on this phone?

thanks,
stephan

M
I really like this phone, but two things could be better: like many others, I think the recharging plug seems weak, and there is no wire or softwear to have an easy connection with my pc. Sometimes when it's in my pocket, it takes some pictures by itself! except tis it's great!
R
If looks could kill, pity we can't get Pantech phones in Australia. Any chance of them ever coming?
m
the phone does have great functionality though, and it uses the standard 2.5mm "mini-jack" for headphones, which is much appreciated.

the ONLY problem i have with it is the connection port for the charger which gives me fits.

m
read some posts about problems recharging the phone (in france, where bouyges is offering it).
i just bought one, have not used it yet, but the one flaw that jumps out at me is the connection to the charger - it's really fragile, you can easily find yourself unable to disconnect the charger from the phone. i think it also serves as a data-transmission port; i hate that; i like the plug-in "jacks" rather than the click-in "ports", but a lot of the new phone models seem to have forsaken the jacks for the ports. stupid.
i don't know if this is the possible cause of others problems with recharging.
F
This phone is great, but how to change the picture of external screen? i have some picture but it just can be on the internal screen.
?
another phone that is so... fantastic i really like pantech phones, i wish to have one, if it is manufactured in korea i wish to release it in the PHILIPPINE market!!!it's great!!!
?
I bought it black one. It has really slim body. It's hard to realize the phone is in my pocket when I put it in the pants pocket.
Sound and camera quality also pretty good.
?
i will buy this phone for sure when it is available. Beauty of a phone!
Total of 15 user reviews and opinions for Pantech PG-3500.