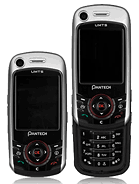 ?
Has anyone had trouble with templates for messaging being in Spanish? I have English as my settings and every time that I send a message I have to hold the # button down 3 times to get predictive text to activate and have to go throught this process every time I send a text
J
As someone who actually owns this phone it's pretty average. Software glitches with the calendar and alarm causes it to fail and sometimes reset.
Options are ok. You can set the ringtone but you can only choose from 3 options for message beep - no new tones.

For the user who wanted to connect to the computer 1. Go to option 7 (Tools) 2. Pick option 7 (USB External Disk). 3. Connect the phone to the computer. Good luck
m
Can anyone help me install the USB driver for this phone? I have the PC Sync software, but it doesn't detect the mobile when connected.
r
looks to be a nice phone with some pretty good features, but when can we see Pantech phones come to Australia.
F
Pantech really need to upgrade their Mobile camera's. 1.3 Mega Pixels ain't gonna go very far is it? At least 2.0 or 3.2 mega Pixels will boost up their phone Sex Appeal!!!
s
this is an average looking,average features and average brand phone why waste money on a phone which is done much better by samsung 1 year ago.
j
Design is very simple but attractive. i am dying for trying this handset.
?
i know dis fon ... clean n strong finish, i like it. standard battery is 800mA not 720mA
Total of 12 user reviews and opinions for Pantech PU-5000.