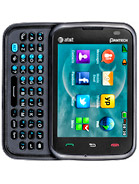 ?
I keep getting invalid SIM card or insert SIM card.how do I fix this!!!
c
Anonymous, 18 Nov 2012The phone, I found, is good for what I use it for- calls and text. It is really easy to use an... more i also have a problem. i can not download any apps ( that don't even require data) without data. Could any one help me? i am so deperate
?
Mike, 23 Aug 2012The Pantech Renue, made from 67% recyclable materials, boasts the specifications listed on thi... moreThe phone, I found, is good for what I use it for- calls and text. It is really easy to use and attractive. But it has a problem with only sending partial text messages, and I can't find anywhere how to fix the problem! Does anyone know what is happening?
j
this phone has a different kind of smart chip then the samsung impression.
receptian is bad most of the time
M
The Pantech Renue, made from 67% recyclable materials, boasts the specifications listed on this website. The only possible discrepancy I have found is that several sources state that its battery presents a 5-hour talk time and others say it lasts 3 hours, but I have found that it depends upon how you configure your settings. You can get much longer battery life by turning the screen brightness down and only turning on Bluetooth when you actually need it.

The features you might not read about from a spec sheet but only from a user include the following:

1. You can customize the layout of the main menu, and even make new folders for new shortcuts.

2. You can customize the 5 different home screens, but each screen is made only for specific kinds of shortcuts. The main screen features basically just the time and date on your choice of wallpaper; on the shortcuts screen, you can set shortcuts to the various tools and main menu items; on the bookmarks screen, you can make shortcuts to web pages (and it refreshes the page every time you use the bookmark, making it ideal for your E-Mail inbox or the local weather service page); on the photo frame screen, you can place three shortcuts to pictures, which will appear in a preset layout; finally, on the favorite contacts screen, you can have quick access to 9 of your favorite people to call or text (it differs from the speed dial feature in that you can text from the favorite contacts screen, whereas the speed dial only allows you to call).

Also, all the home screens use the same wallpaper and show the quick-access bar at the bottom with the four main shortcuts: Phone (dialer), Contacts, Messages, and Menu. Of course, there is the uncustomizable quicklaunch that shows when you slide the phone open from the homescreen, featuring shortcuts to Messages, Mobile Email, YPmobile, Web, Contacts, Facebook, Twitter, and Menu.

3. The included Powersaver app allows you to save an alternative configuration for Bluetooth, touch feedback, and backlight timeout and brightness, and switch quickly to that configuration with the swipe of an onscreen switch. It is designed so you can save a less battery-demanding configuration and switch to it at one of those moments at which battery longevity is most crucial.

4. On the lock screen, you can enter or exit the 'Vibrate Only' profile, open the dialer, enter Messages, start the Camera, or call Voicemail by dragging the respective icon to the center, which allows the fastest of access from standby. For the camera that's good because the Renue does not have a dedicated camera button. Also, you can set a different wallpaper for the lock screen than the home screen if you want.

5. The camera is not HD, which is to be expected forasmuch as the Renue is not a smartphone. It is 3.15 MP (photos can be up to 2048x1536) and you can set the image quality separately from the resolution. The video camera saves in the .3gp format in 176x144 or 320x240. There is a 'For MMS' setting, which sets the video resolution to 176x144 and limits the recording length to about 30 seconds.

6. The Renue features Facebook and Titter, but I don't use either of those services so I'm not familiar with them enough to know if these are apps or just shortcuts to the websites.

7. The music player is the typical Pantech music player, which plays according to artist, album, genre, or playlist, and displays album art if present. It features an equalizer, which could be useful along with the standard 3.5mm earphone jack.

8. The touchscreen is capacitive with multitouch, and is very responsive to the touch with a fast and smooth frame rate, as good as a lot of the smartphones you'll see these days (possibly thanks to the Brew Mobile operating system). If you plan to use a stylus, you will need the kind that works with a capacitive screen. The only problem with the touch screen, which might be unique to the one I happened to receive, is that while it is plugged in and charging, the touch screen is practically unusable. You can touch it in one place, and if it reacts at all, it might and might not react in the place where you touched it. It's really no big deal, though, since it works perfectly when it's not plugged in.

8. The keyboard is roomy with small keys that click satisfactorily to the touch. The phone is responsive to keyboard input and does not miss letters like some phones I've seen.

9. Last, but not least, we shall discuss the most important aspect of a phone: communication. The Renue features excellent voice clarity in calls, and boasts average reception indoors and outdoors. It has conversational text messaging, can store up to 300 messages, and can be set to auto-delete the oldest message when it fills up if you please. You can turn off Data transmission; while Data's turned off, you can't access the mobile Internet, and so you cannot accidentally hit one of your shortcuts that opens a web page or GPS app. Wi-Fi is not included, but it's not a smartphone after all.

Overall, the Pantech Renue is wonderful for calling, texting, and web browsing, but if you do a lot of that, you should scale back the battery-draining features like the brightness, making the best use of the Powersaver. It's not a smartphone, but its user interface is about as good as one.
Total of 45 user reviews and opinions for Pantech Renue.