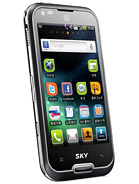 J
where can I buy this phone? I'm in Qatar. is it possible to get it via online market? it's urgent.
K
Raz, 08 Jan 2011Hmmmmmmmm... Looks like Samsung.. or is it..?! So... the phone is similar samsung phone...

in korea , Called Small Desire HD

So. i have Vega (no Vaga X) =_=;; Pantheh have

korean brand name "SKY"
o
Everyone always say that korean are lucky but how about droid x droid2 win7 phones and some nokia phones?? We want to have these succeed phones??
?
pantech is a korean company.
and sky is pantech's domestic brand
like lg cyon and samsung anycall.
?
It looks like SGS with a DDR2 memory. woot! minus the SuperAMOLED that is.
Total of 55 user reviews and opinions for Pantech Vega Xpress IM-A720L.