Partial YouTube outage: Channel pages are returning error 500 [UPDATE]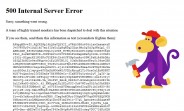 Update: It appears the channels have been fixed. Original story follows below.
Many folks are tweeting that they are unable to see any YouTuber's channel pages, only to be met with an internal error 500.
Wowww I canít go into any channel on YouTube #youtubeisbroken

ó Raichu (@Raichubaby) April 2, 2018
We just tried to open 10 channels from videos in our YouTube feed and all of them return the same error "500 Internal Service Error". Surprisingly, MKBHD's channel is seemingly the only one visible and working just fine. Even Casey Neistat's channel is returning the same error.
Edit [16:30 ET]: MKBHD's Channel is down again but Casey Neistat's is back. It seems the issue is scattered and intermittent.
Seeing this 500 error message on YouTube? We're on it! pic.twitter.com/ArPDUDxUcp

ó Team YouTube (@TeamYouTube) April 2, 2018
It appears that YouTube has been working on the error for a couple of hours now. A reason has not been mentioned.
Are you seeing this same error when trying to see user Channels? Let us know if you do and whether you are trying from the mobile app or the website.
D
I have been trying to connect youtube to my Sony Bravia KDL Series and apparently the Youtube page is stuck on Youtube and it has been over 1 week since I am facing this issue, neither can I connect my Youtube to TV via screencast. It is horrible tha...
S
Wait, it works again :D