Pebble 4.0 software update redesigns Health app and launcher menu, speeds up animations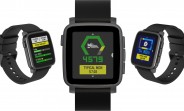 Pebble has announced its latest firmware update for its newest smartwatches. The Pebble 4.0 firmware is accompanied by version 4.0 of the Pebble app for both Android and iOS.
The new software release works on the Pebble Time, Pebble Time Steel, Pebble Time Round, Pebble 2, and Pebble Time 2. It brings a redesigned Health app (both on the watch as well as your companion smartphone), a new timeline with quick views, and a new launcher menu "built for speed" featuring App Glances which show preview info without even opening an app.
You can now use all four buttons to quickly launch any app you want by pressing and holding. Additionally, new system animations make everything feel faster.
Users with a Pebble watch paired with an iOS device can finally act on incoming emails (Gmail only for now). Custom canned responses can be created too, and voice replies are supported as well. Such functions have been available to Android device owners for a while.
t
yeah I have that too, it's to cool!!!!!
g
Got updated to Pebble V.4 just now!!