Pebble has released a new firmware for the Pebble smartwatch, and also updated the iOS and Android apps, bringing everything to version 3.10.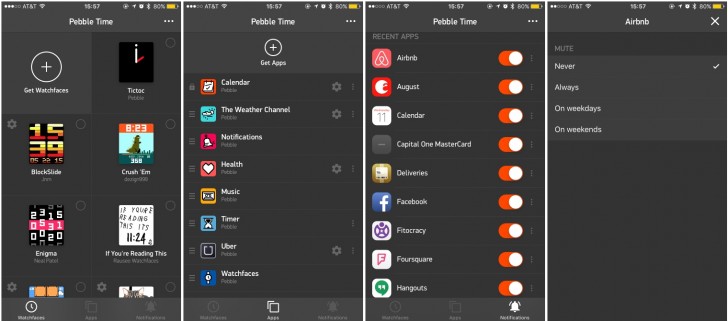 The 3.10 firmware for the watch brings larger emoji for the most popular emoji. Whenever you get a single emoji from among these, the watch will show a jumbo sized version now. Other additions include refined Pebble Health activity notifications, Chinese character support, bug fixes and performance improvements.
The 3.10 update for the iOS app brings a new UI and three tabs at the bottom for watch faces, apps, and notifications. Watch faces shows all your downloaded watch faces, apps shows all your installed apps, notifications show you which apps are allowed to send notifications to the watch, and you can also set individual apps to only alert you on weekdays or weekends other than simply always and never.
The Android app sees an improved Send Text app, new language support, and bug fixes and performance improvements.
All of these are now available to download.
w
Hi all Pebble Team members; So much is happening so fast with Pebble Time I'm left in the dust but am glad to see such incredible progress. I also own two Apple Watches and three Pebbles. Apples getting up and running way beyond their own immedia...