Controls
The Pebble Time features the same controls' layout as the original Pebble. There are three buttons on the right side of the smartwatch for menu navigation and selection, as well as a small microphone pinhole. A single button on the left for going back in within the menus.



The controls of the Pebble Time
A couple of logos and a charging port are located on the back of the smartwatch. Kickstarter backers will get a special logo on the back just like the first time around.
It is worth noting that the charging port of the Pebble Time can be used for connecting smart strap accessories. Time will tell how these will turn out (no pun intended).
Pebble Time app
Just like the original, Pebble Time needs a companion app to connect with your smartphone. The application is available for Android and iOS for the time being.
You can manage the apps and watch faces of your Pebble Time via the app. The latter can handle more than one smartwatch if need be.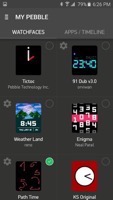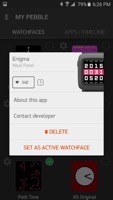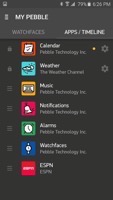 Managing the content on your Pebble Time
A dedicated submenu within the application handles all notifications that you want the smartwatch to receive (or not). Android users can also add custom notification responses.
Sadly, actionable notifications don't work on iOS hardware. Apple will only allow to receive notifications on your Pebble Time and dismiss them.
Of course, the Pebble Time app is also where you get new apps and watchfaces for your wearable. The two are separated in a duo of submenus.
In the watchface storefront, Pebble Time-optimized ones are naturally promoted. You can also install watchfaces designed for the old Pebble if you wish.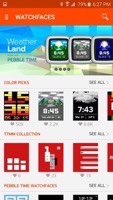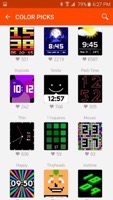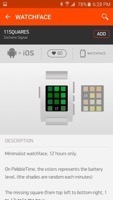 A look at the watchface storefront
Take a look at some of the popular watchfaces for the Pebble Time below.







Some of the popular watchfaces
The app section contains six subcategories - daily, tools & utilities, notifications, remotes, health & fitness, and games. Just like in the case of the watchfaces, you will find out that color-optimized apps are given extra attention. Again, you can install apps for the old Pebble too.
Most apps for the Pebble Time are basic, yet functional. It is hardly a surprise that there aren't as many quality apps for the device as there are for the Apple Watch and for Android Wear offerings. However, Pebble has a vibrant developer community at work, so things will certainly improve in the future.