Final words
The Pebble Time is a solid upgrade over the first generation. Its improved looks, hardware, build quality, and platform reveal that the ambitious upstart is capable of coming up with a mature product, whose unique qualities allow it to go head on with the best in the business.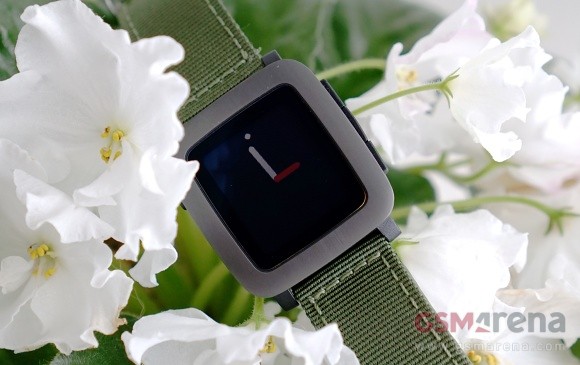 Launching the smartwatch on Kickstarter was a brilliant idea by Pebble. The crowdfunding platform success provided the smartwatch with a lot of media buzz and practically free marketing. For a company with the size and resources of Pebble, this is a huge deal.
Key test findings
Battery life is the best in the business
So is the 30m water resistance
Sunlight legibility of the display is top notch
The overall user experience is lean and distraction-free
Easily changeable watch straps allow you to customize the Pebble Time any way you like
The 64-color screen feels massively outdated in 2015
Build quality and finish lag behind those of similarly priced devices
The indoor visibility of the display is not great
A $199 price tag is ambitious for the hardware on offer
Limited amount of apps and watchfaces are optimized for the new OS (for now at least)
Like its predecessor, the Pebble Time bets on battery life and simplicity to attract buyers. Whereas the Apple Watch and the hordes of Android Wear devices try to take over as many functions from your smartphone as possible, the Pebble Time focuses primarily on delivering notifications and lets your handset handle the rest.
Of course, the device's superb battery life and ease of use come with caveats. The display of the smartwatch feels outdated next to the units found in the Apple Watch and the Android Wear offerings.
The Time's plasticky build on the other hand is as far from the premium feel of an Apple Watch or a Moto 360 as it gets. Thankfully, the soon to be revealed Pebble Time Steel will allow people to choose a more premium option.
The first Pebble passed a million units in sales, so the Time has plenty of expectations to live up to. We believe that in today's highly competitive environment, matching the success of its predecessor will be a massive achievement for Pebble and its latest creation. The Pebble Time will surely not have the same easy ride as the original.
Liking (or not) the Pebble Time boils down to one's personal view about what a smartwatch should be. If you want your wearable device to take over functionality from your smartphone as often as possible, then the Time is not for you. However, if you are looking for a smartwatch mostly as a platform to deliver notifications, then you will surely like what the Time has to offer.