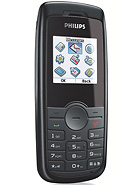 N
Its an excellent set that I am using for almost 3 and a half year. It never hanged or disturbed. I am using it beside my MotoRazr V3i and Xperia as a supporting set. Thanks to Philips
J
@Ahmed Han

It's not just yours, mine too only lasts only 2 days max with very light usage. Wtf!
A
I have been using this phone more than two years.

+ Very slim and light weight
+ Buttons are flat, you can use without key-lock

- Annoying ring tones, there is no normal phone ring, you have to chose one of those silly melodies.
- Very slow response, the screen/operation changes after a delay.
- Sometimes connection is cut while you are speaking, I don't know if this is a fault of mine only
- Charge goes only for 2 days after 1 year of using
- Buttons are flat, not easy to push

Comment: Don't buy it, there are lots of alternatives.
J
Bought it about 2 weeks ago. I like the fact that it's fast and text are small. What i hate is the annoying ringtones. Why cant they have normal ringtones like a phone ringing? When typing SMS, it's auto T9, you need to change to "Abc" manually everytime you type. Also, the battery life sucks. I use it rarely and still have to charge every 3 days. Recommended for those who just receive or make calls, even that, make sure it's not a long call!
b
I have been using this mobile more than 6 months and it is quite nice phone. Easy to use, good to talk, voice is clear but some times the signal come weak but that is also fine.
Overall Good Phone to use.
S
I bought this phone because it was from Philips and the price was rock bottom. It also looked slim with a modern look when compared to Nokia phones. But after using it for 2 days I found out why this phone will not compete with phones from Nokia.

The phone's user features like the Menus, etc are not very friendly. Eg. Contact Search, only the first letter of the alphabet can be entered and it also does not show the phone number, and we have to press 2 more buttons to view that. So it is quite cumbersome to use.

It is the same when using Handsfree feature too. We have to press 3 buttons to go to the handfree, while in my previous Nokia phone it was just 1 button. Also the handsfree is not available when calling a person ie. it is available only after the call has been connected, while in a Nokia phone you could use handsfree when the connecting a call so that you can hear the other person's phone ringing, which is useful in driving & at the same time talking on the phone. So the Philips 192 loses out on such features to Nokia phones.
h
advanteges: slim, light, cheap. nothing new.
i take this phone as a gift in petrol station. theres 2 problems. one is about the "voice". you cant hear the voice if you areint in a quite place. second is about backround light. it may stack sometimes but is not so important.
M
Cheap, cheap, cheap also the loudest ringtone that i ve ever heart... recommend this cell
o
this is really very very bad phone. it is only slim and there is nothing. the voice is incredible awful. it is so cheap but, that machine isn't for to talk.
m
good looking simple basic phone. bravo.
Total of 10 user reviews and opinions for Philips 192.