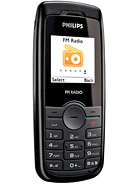 c
Wally, 13 Oct 2008Crappy phone... not so nice design, too basic even for a basic phone and it colud have some me... morewell yeah that what is mean to be! for $10 what do u expect :D
?
Nice and damn cheap it .
10$US only :| ,how much cheaper can technology get !
?
Philips, please do the world a favour and stop making mobile phones
?
omg!
(status-coming soon. hahaha and only 3h talk time) = fail!!! epic fail!!!
W
Crappy phone... not so nice design, too basic even for a basic phone and it colud have some memory or a expandable memory but is a phone for someone who only makes calls and sms..... nothing more....
Total of 8 user reviews and opinions for Philips 193.