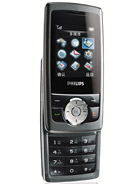 b
The design is superb,just look at him...pure 10!
But,the fact that there's no bluetooth,camera etc. it makes him 8 out of 10
G
mr helmy, 19 Jun 2008i wonder why u dont have 3g in this phone why no wi-fi why nothing 'Cause it's made for kids.
A
My phone is Philips 298. Problems is auto answer. When Somebody call, it will auto answer. Now I don't need to press answer key to get the call. I don't like that. Pls help me to correct it. Ananda
Total of 9 user reviews and opinions for Philips 298.