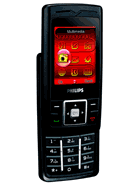 s
if you pay more than £50 for this you were robbed its a sorry excuse for a low end mobile there are better and cheaper out there.
H
I bought one unit in Malaysia. superb sound reproduction for the MP3 and has got a cable with it. I am happy to pay the price for these basic model. The price is good for the features.
a
check inside any samsung phone and you'll find that they've all got NXP (formerly philips semiconductors) chips inside. The sliding phone concept was invented by Siemens on the SL55, so who the blantent copyists?
c
This phone is a piece of crap. It dosent even have GPRS not to mention EDGE . How can you send a picture ? You tell me.
b
wheres the bluetooth ?

would have been nice to see a least a 3 meg kam too .
Total of 27 user reviews and opinions for Philips 390.