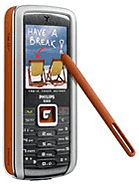 G
Anonymous, 13 Aug 2004no camera'I'm just a brand new reply to your 15 year old comment
A
I mostly like the philips product though in tanzania we have no the new product,we have only the old one of Philips Savvy vague and others like that I mostly interesting to use the philips mobile phone,but most of the tanzania they hate philips because of the first product size.
I give you all big up for good product.I feel it.
m
it's wonderfull mobile phone i wish that i can buy it
t
can u please give me the price of this phone.
thanks
T
Does the phone have the English hand writting recognition capability ?
x
Hello, there is java in this phone. quoate "lol, out of date, and boring, no java?!"

out of date yes i admit that. but it still a good phone with a good price also :D
R
This phone is on sale in paris and I just wanted to post to say it's a good business phone.
y
Nice phone. it's a simply phone. So for the small users .
?
HP's camera sux anyway. it does't matter whether it have it
C
I'm wondering about how this phone could get more than 9 points!Maybe Philips is cheating. No Java, No Camera, What da hell is that?
H
Watch this phone!!! It's perfect.I can't waith for buying it!!! We are proud on Philips.
P
The only difference,to 755 and 759 , no camera, so this model will be very cheap.
?
lol, out of date, and boring, no java?!
Total of 15 user reviews and opinions for Philips 550.
ADVERTISEMENTS