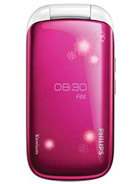 s
Abhishek, 16 Jan 2012Where can i find this phone in INDIAyou can find this ph. in kolkata.
o
this phn looks cute.. i want to buy this phn. any idea where i can get one?
r
i've seen it before so many times, sony ericsson, nokia, moto...now philips playing catch up?
r
awesome moblie i love this mobile alot while im looking this mobile i really dam flat chooooooooooo cheeeeeeeeeeeet
r
while im looking this mobile my god this is one of the awesome mobile in the world im really dam falt i love this moblile
c
superb hand set...iam gng buy this moblie...i like it so much.superrrrrrrrrrrrb
Total of 15 user reviews and opinions for Philips F515.