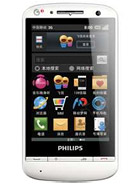 k
come on philips u can do better than this and put philips on the right track. android with ics or ginger bread, 1.2ghz or 1.5ghz, 8GB/16GB, Super Amoled, Secondary Cam 2MP, wifi 3G/4G and put a xenium battery 2500mah to 3000mah long for a battery life. then launch it..
t
sanju, 05 Aug 2011very bad phone. many complaintsaaichi gand tuzya layki aahe ka tuzi TS phone vapraychi
U
When are we likely to get your good products in our shops in Kenya?My father bought Philips 305 record player in 175 and its still works!
?
when it will be released???looks good!!!hope that philips will more high end phones.
Total of 11 user reviews and opinions for Philips T910.