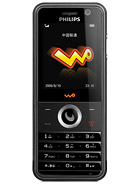 D
friends I just want to know whats it's price ? any multitasking option ?support hd ?
m
Is not correct says that philips cell are chinese!
Philips has been contracting the production of phones(15 years ago) to its former joint venture with CEC(trought Sed electronic) and philips named Sang Fei.
CEC bought the right to use the Philips and xenium brand over the next five years!
Now sang fei continue to make philips cell like before!


R
Philips has allowed China company CEC to use its brand name.Philips should end this contract and have their own technology and enter into market. Chinese are spoiling Philips name.
Duch copmany should realise this.
Philips is the only company who can match any technology any where.

?
Acctually, the "Wo" logo 'belongs' to a Chinese mobile phone opperator..and has nothing to do with Philips or the phone design.
C
Philips should launch 3G with wi-fi Touch Screen in India. Philips has good name and great image in India. If 3G phone is launched we are sure that it will replace all so called Korian useless brands.
India is just entering into 3G era.
K
This is really good begining. We are waiting for 3G xenium Touch Screen.
Philips X800 Touch Screen with amazing battery life was really great. I am using this since last 11 Months. Expect something exciting from Philips

S
Well. Great !
The first UMTS phone from Philips (Ok we know that's not really Philips but..)
Do you know a online shop where I can order Philips Phone in Asia ?
THANKS
?
at last! congrats to Philips for its first 3g phone. Now make its xenium version for us...
Total of 10 user reviews and opinions for Philips W186.