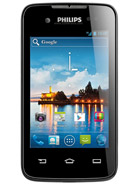 m
I´ve bought it two month ago. I ´ve only a software problem but de technical suport has repeared it. Is a good gadget
l
its slow and i have to reboot it often. I bought it just a week ago.
the cover its a little bit sensitive, im afraid im going to crash it rebooting it.
its an economic phone but i would recomend to buy one with better functioning.
also, it has no flash on the camera and its not that great.
however, offers many of the features wich most of the phones, nowadays, offer.
l
i just bought this phone and im having trouble connecting it to wifi.
it reconises the name and everything but it says its out of range. it cant be out of range beacause the modem its right next to me and im using it with my computer.
does anyone knows how to connect it??
Total of 4 user reviews and opinions for Philips W5510.