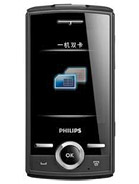 h
kuro, 01 Apr 2011I wonder why still have no smartphone ^_^ .... Philips have battery technology same question :)
k
I wonder why still have no smartphone ^_^ .... Philips have battery technology
e
Are you kidding Philips?

What kind of feature set is that in 2011?

You better pay attention to your ... toy business!
J
Dear Mr. Philips, please make it quad band with an 8mp camera and I would only buy your devices.
Total of 6 user reviews and opinions for Philips X516.