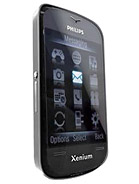 h
Wifi is not essential on phones, but only a nice feature to have. It would be essential if hotspots are available on every street corner, but it's not. Also, full internet access costs around $20/month, & while wifi may be free at SOME cafes, you still need to get an access code, & guess what, you have to order something before the cashier would give you the access, unless of course you're a cheap jerk. Also, most good wifi signals are secured and requires a fee (like at the airports), so in the end you'd be spending some money also. I say don't be cheap. If internet access is so important to you. Get it through your provider & access the web wherever you're at, instead of checking every block for wifi, LOL.
B
No Wifi is a major con for phones like these!!
?
Hackerman, you are wrong. wifi is essential nowadays especialy in touch screen phones.
H
Looks great shame about no WiFi but still a nice touch screen handset.
m
I see a lot of people whining about some features that this phone doesn't have, like not having wifi, 3g or edge, without even considering that this phone might be for those consumers with budget limits, but would like a cool looking smartphone like this one. There is another model coming out. It's the X-Connect. That one I've heard would be the high end one with better features. I wish that people would learn to be less hasty to judge. Especially on products that is not even out yet, or does not even have a price tag yet. I guess those who complain would feel stupid if this phone is announced to be priced around $250 only.
h
no wifi is such a disadvantage for X800 compete to iphone, so it must be much cheaper than iphone
besides, no EDGE no 3G, it couldn't be hi-end device
i just want to know its price ;) I'll buy one if price under $250
t
tat's a great battery life for a phone with tat screen size, too bad the lacking of wifi/edge/3g
a
No wifi, I can survive.
No design, I may survive.
No 3G n no EDGE, go to hell.
Phillips should b banned from manufacturing any products.
S
this is a stupid copy of iphone which i most say the only good thing about this phone is it looks nice and other than that it's a usless S**T
for the bro who asked what is the use of wifi i would say internet connection ( sarcasm )
so its missing important stuff like WIFI 3G
and information about what virsion of windows mobile and internet browser processor speed
my self i like keyboard that i can feel under my fingers if not somthing like iphone
g
No wifi? i'm not getting it.
Total of 115 user reviews and opinions for Philips X800.
ADVERTISEMENTS