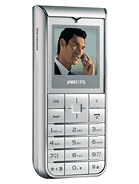 ?
to > Khurram Ansari
I dont belive in this Philips model 1000 hour standby time. And the 10 hour talktime is noting new. Checkout SonyEricsson p800 / p900 / p910 models. Tose models provide talktime up to 16hours and standby time upto 450-500 hours (2,5-3 weeks!!!). I think that the 1000 hour stbtime is nonsense!!
K
PHILIPS... I dont know why they make mobile phones. Any way I only used 1 model of philips in my life, so dont know more. This is a unique design phone and its only quality in this model.
f
I have downloaded manual from Philips site and I found something really amazing. 10 hours talk time, and incredible 1000 hours stby autonomy. That's really amazing. Fantasting operating time and it will be record for a long time, absolutely.
?
this telephone have a nice beautiful design but it is poor about functions:no gprs,no mms,no camera...but it is very cheap...
1
"No" means that they don't know, yet. So, be pacient, wait next site upgrade.
j
when will philips understand that the market needs some other features. no gprs,no IR,no usb. so how the hell would someone download aomething in the phone.hey guys wake up.....
p
wow....really looks sexy, sure will be at the budget end, but sadly without a camera....design is fantastic, will standout in the crowd...but we will have to wait....PHILIPS' phones take very long to arrive, by the time it reaches that market out interest is gone...classy executive Xenium..kudos PHILIPS.
Total of 50 user reviews and opinions for Philips Xenium 9@9a.