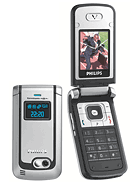 e
You can't copy your contact from phone to SIM due to the fact that phone allow you to have several informations per contact which is not the case for the SIM. However, you can use Mobile Phone Tools (the inbox SW) in order to save all your contacts on your computer. Once it is done, make a preparation with an excel file and ensure that each contact will have only one number, change the selection of the phonebook to be synchronyze, import your excel file in a new MPT contact list and inject the contacts from the excel file into the SIM directory.
l
is there any phillips mobile fone that is mp3 capable or atleast have radio and or bluetooth. i'm looking for a nica cam fone with atleast a fm radio and infrared or bluetooth. thanks. i'd really apprecaite ur help/ opinion.
O
It's a shame that Philips phones have had low demand! OUR SOCIETY IS SO BRAINWASHED AND NOT MATTURE AT ALL.

9@9i Is a great phone!
-Basic Phone
-Not overloaded with useless crap
-Looks like a phone
-Great battery life

WHAT ELSE DO YOU NEED FROM A PHONE?

Philips:
Please bring your long lasting battery life phones to U.S.!
S
i heard philips has slow respond in menu?thats right?But the model is futuristic!!
H
Sorry... but I'm a litte bit confused... I live in Indonesia and recently I went to a Philip mobile phone exhibition, and they told me that these 9@9i's camera quality is VGA not 1,3 mp. their brochure said also that this phone is using VGA camera... do Philips sell different spec of 9@9i in Indonesia??
a
Great phone! Replay on the US available question: Philips mobile phone division is recovering from some loss in Europe. They are realy selling their mobile phones in asia and russia, but even here in the Netherlands (home country of Philips) it is very hard to find a Philips mobile phone. In the US the introduce only their new High Tech audio/video products. The phone market is alreasy devided. I think they don't want to burn their hands again. It's a shame because they make real good phones!
j
this phone is retailing for RM799 in malaysia which makes it a steal since the 9@9c is now selling at RM699 and was still RM832 only a month or so ago. paying RM100 more for a bigger internal memory of 20 mb and and 1.3 megapixel camera makes this phone a real good deal. of course, however, there is no video recording and mp3 player on this phone and the measly display resolution of 128x160 pixels is a real letdown. an alternative to this phone would be panasonic's vs2 which selling at RM899 which allows video recording (but only for 1 minute 45 seconds or thereabouts if i remember correctly) and has a mp3 player and the incredible display resolution 240x320 pixels and 16 million colours and can store up to 500 sms (versus 300 for the 9@9i) although its phonebook (1,000 names versus 500 for the vs2) and battery life (370 hours standby and 6 hours talk time) loses to the 9@9i which hold the record for the longest battery life.
Total of 32 user reviews and opinions for Philips Xenium 9@9i.