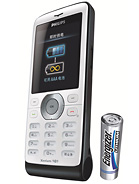 ?
sorrry guys, this phone has been cancelled so i dont think it will be out.
?
hmmm...
i'm thniking about getting myself a 2nd phone, just i case sumthin happens with my primary phone.
i'm considering either buy this, or get those xenium series that also made by Philips.
they both have their advantages.
K
This design is quite interest for me. I will buy this model for my spare purpose~!
?
This site is pathetic. Philips brings a very simple and clever idea that focus on how to get going when your phone is "low batt" and all I read are negative comments on how Philips should stop their business. A real pitty.

The phone looks great, has plenty of features and will never let you out of battery since you can always get a cheap AAA wherever you are. I would like to buy it in the UK though.... I guess I can buy it online and get it shiped.
?
I want to buy one of these immediately! The only thing I wish is that they got rid of the lithium ion battery altogether. I hate those things! They always go flat just when you need them the most, it's very hard to buy spares and you end up having to order them over the internet, and they cost way too much to have a supply on them on hand. I can get an 4-pack of AAA or AA rechargeable cells for 5 bucks or so and always have a few spares on hand. I wish they'd just make the phone run on a single AA NiMH cell and leave out the lithium. I've been looking all over for a phone like that and this 9@9j sounds as close as it gets. So I will buy one as soon as I can, throw away the lithium cell immediately and just run it on AAA's from then on. Free at last!!!!!
?
for a cell advertised with batterys the life sucks
takes like 5 hours to full then dies 2 hours later

f
this is a superb phone ive worked on this phones validation and tested it ... its gonna be out soon.. good buy but dont expect something extra ordinary
r
I like Philips for their long-life battery. But why don't they ever create a 3G phone ?
?
Oh Philips, Philips.....What a great brand back then, when mobile technology was simple...When things moved on, they got stuck in the past and finally they dissapeared from the market, and now it seems an unknown chinese manufacter still produce philips phones, of course it´s not really philips that your looking...
In my opinion "philips" has two options:
Either they return to Europe, with limited success and market share or they they ceased the brand once and for all, and become battery universal supllier and leaders in the production and research technology.


I mean look at this phone!!! Nothing special, like the rest of "philips" crap they release until now, but look at the batteries!!! Great inovations, reaching amazing standby times like they always done. I still remember one of the first Xenium product range the 9@9, what a perfomer, with large standby times....

Please Philips, save your dignity, like you deserve, and focus on the real matter:)


Total of 34 user reviews and opinions for Philips Xenium 9@9j.
ADVERTISEMENTS