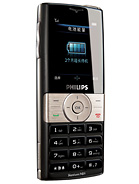 F
To all people seeking the great phone: it is available at yesasia.com (for USA & Canada) and global.yesasia.com (for other international customers) and costs US$ 179.99. They have both 'all black' and 'silver & black' versions. Cool phone, bought 2 for my own use. No more everyday reacharging! At YesAsia they have 9@9r and the new 9@9u quadband, too.
?
One more question, regarding the fact that it is available only in Asia & Russia,.. Does it have English option for the Menu ??!

10q
s
AMAZING !!! 10++ from my part for PHILIPS
Mobile Phone Depart. !!!

Does anyone how can I order this phone from Holland, 'cause I see that this mobile is available only in Asia & Russia,... why?...I don'know ?
Please help !!!

F
Somebody wrote about this model being available on HK for about US$ 125.00; I'd appreciate if you, who are reading this, e-mail me online stores who can ship to Brazil. Thanks a lot.
?
Damn! It should be quadband, no camera, fm radio and A2DP bluetooth.
f
Regardless the fact that I used several Xenium models: Xenium 9@9++, Xenium 9@9c, Xenium 9@9d and last one that I still use Xenium 9@9f, I am really impressed. Also my spouse have been using Xenium 9@9++ since June 16, 2004. We are satisfied with Xenium battery life as well as signal reception. Above-mentioned models which I used I sold to my colleagues and friends too. Once when you try out any XENIUM you never even think to change it. Up the XENIUMs!
K
special thanks to philips for all xenium's.
i feel battery backup is the most important fector for a mobile, where philips xeniums are
realy great then all others.i am using 02models & love to get 9@9k soon. please try to send it to dhaka soon. wish u all the best.

kuntal aulad
dhaka, bangladesh.
?
It should be Quadband and just get rid of that camera! And Dual SIM that "on" at the same time.
E
Humangous battery life with all the features. I hope to get my ands on this one and get rid of my Nokia N95. This is what i really need. MP3 music and phone with a battery that never dies on me, any time, really peace of mind. Cheers to Philips!
H
WooooW! what is it?!!
17 hours talk time. really wonderful
what do u do Philips?

good job
f
I want this phone ...I need this phone very bad ...it's modernd and the baterii live is ..splendit ...
Total of 115 user reviews and opinions for Philips Xenium 9@9k.