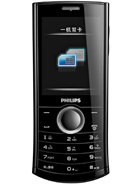 ?
Yep, it has no different in term of features with x710, but the casing design. You also right, it should be a double quadband to show some feature improvement from the existing philips phones.
?
WTF? At least give us double quadband... Why Philips keep providing triband, it's just a body design facelift!
Total of 22 user reviews and opinions for Philips Xenium X503.