The Lumia 1020 is one of those legendary signature devices that remains as a veritable milestone within the industry even if it wasn't exactly a market hit. It is more or less the holy grail of Nokia and Windows Phone fans, but also a sad reminder of the Finnish giant's Microsoft fate. If all this rings a bell, then you will undoubtedly remember the RM-1052 as well – an elusive flagship that was allegedly going to follow in the footsteps of the Lumia 1020 but never made it to production.
Now, in light of recent developments, like Nokia's planned return to the smartphone realm and the leaked Android-powered Nokia C1, fan interest around the topic of smartphones has exploded once again. And if the C1 wasn't enough to fan the flames, the aforementioned RM-1052, codenamed "McLaren" has resurfaced yet again in a new batch of leaked photos.
The stills depict a clearly-marked prototype unit alongside other Nokia smartphones of old, like the Lumia 1020. Comparing said shots with the last know appearance of the alleged Lumia, back in 2014 reveals a perfect match. The large PureView camera definitely can't be mistaken, so we can say with confidence that it is the same device, although obviously a different unit, since the one from 2014 was silver.
The legendary camera always going to be one of the main features of the successor. Another quite interesting rumor hinted at Kinect-like air gestures to control the unit. The feature would have allegedly been called 3D Touch or Real Motion. And although the former is likely off the table at this point, there might still be hope that the Xbox-inspired technology is not entirely scrapped.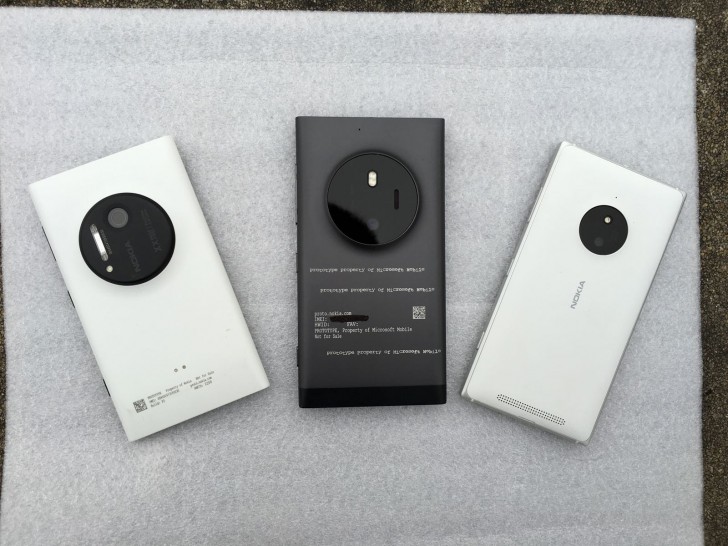 Now, logic dictates that the Lumia McLaren's lifecycle was abruptly interrupted in its very infancy around the time of the Microsoft acquisition and it seems unlikely for the project to be revived a year later. This is probably just a case of some office cleanup or intentional rehashing of an old prototype, simply laying around.
S
I had the Nokia Lumia 1020 and i am sorry to say, i am very disappointed with the phone, it was working fine for the last 2 years, would get slow when the space was running low but that as far as all mobile devices go, is expected and is easily fixed...
D
The myth unfortnately lives on. I really wish GSMarena or DPreview would do a big camera-phone test. Were they get both the 808 and the 1020. And the Panasonic CM-1. And the latest flagships. The 1020 and 808 didn't lie about their sensor...