Just a few hours ago, we received an exclusive tip about Oppo's new display technology which visually eliminated the display bezel. It does so by the use of clever light diffraction, which makes it seems like the display panel extends further sideways than it actually does.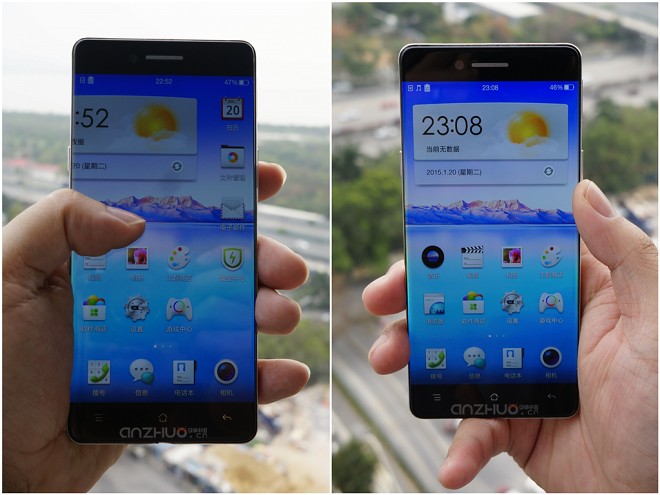 The information we received earlier was of a filed patent and today we found a couple of live photos that seems to show the clever new display technology in an actual device. Now, as far as we can tell, the two shots look real enough and the promised visual effect is definitely there. The accompanying text talks about a 5.5-inch screen size and also mentions that the technology is similar the one used in the Sharp Aquos Crystal.
Looking closer at the first shot, the one in "mid-swipe", it does seem that the numbers and symbols are slightly distorted once they reach the edge of the display, where the illusion takes place. This might simply be due to the change in surface angle or maybe the photo is slightly out of focus. There are some concerns around the technology and how it affects image quality and clarity toward the edges, but it is too early to comment on the matter and the photos are not really enough to go by.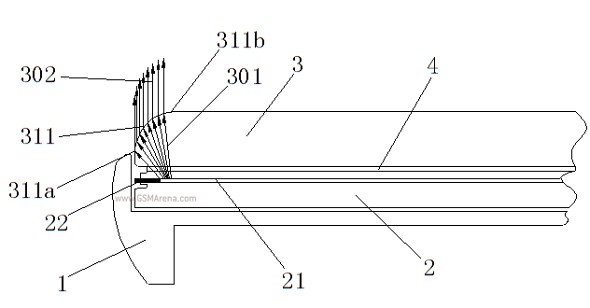 Hopefully, the new technology will allow the manufacturing of edge-to edge screen devices in a cost-efficient manner, so we can see such screens on mid-rangers and even budget phones in the future. As we mentioned in the previous article, the patent is already granted and should be available online within three to six months, so it would be fair to assume, that we might start seeing it employed in actual devices after that.
The unit in both photos looks pretty generic and mostly resembles the Oppo R5, as far as the company's current lineup goes. This, of course, might simply be a coincidence, but it could also signify that the R-lineup will be the first to receive a model with the new screen technology.
What do you think of the photos? Do you think they might contain "traces of Photoshop" and are you excited about what Oppo is developing in general?
?
Yeah, I agree it's coming, but I still don't like it... My practical limit for a phone's screen is 5", and I am not going over that, regardless of the bezel size. And yes, it's my personal opinion, of course. Maybe, it'll grow on me (pun intende...
?
First a 5 inch screen (16:9) is 62.2×111 cm. So yeah it fits the case of the original iphone (NOT iphone 4 , reread my post), w/t any other modification. Secondly the aspect ratio is great (16:9), the best in business IMO. There is a ...