The available info doesn't get any further than a spy shot or two, but we're talking the real deal here. The most popular handset in our database for several weeks in a row - Nokia N97 is to have a baby brother soon.
Rumors of a more compact version of the Nokia N97 have been around for quite a while now but that does look rather more believable. The possibility that this might be a nicely done fake unit still remains of course.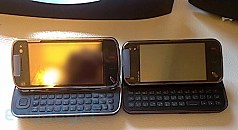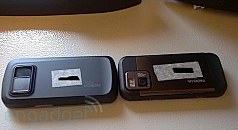 The Nokia N97 mini next to the original model
With the entry-level 5530 XpressMusic just around the corner, Nokia needs an upper-midrange model to fill the gap between the N97 and the 5800 XpressMusic so it can have a complete range of touchscreen devices. We aren't quite sure if a QWERTY side-slider is the best choice, but the N97 was pretty well received so what do we know. A more affordable version of the Symbian-fans dream device might be just what's needed to have them make the switch to the Symbian touchscreen world.
S
You buy it..bcouz it is very good phone.iam using n97 mini with in 2 year.but i have no any complaints with it.its good phone.
R
I am planning to buy N97 mini , please tell me my decision is good or ?????
M
Its for Real visit http://www.nokia.co.in/find-products/products/nokia-n97-mini
ADVERTISEMENTS