New images have surfaced of the retail packaging for the Google Pixel 3a, indirectly confirming the purple color option and revealing a couple of details written on the packaging.
Brandon Lee, on YouTube channel This is Tech Today reports that the Pixel 3a will come in both 64GB and 128GB storage options. The packaging itself features the light purple Pixel 3a in somewhat familiar packaging that we've seen with the Pixel 3.
We're also offered a view of the side of the packaging, which doesn't reveal too many specifications, but it does confirm the 5.6-inch display size on the Pixel 3a and the official model number for this North American variant is G020G. This variant would be sold in both the United States and Canada.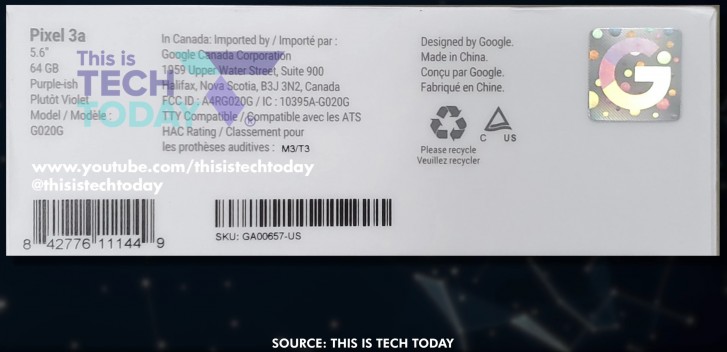 Last week, renders of the Pixel 3a leaked in a light purple color with a yellow power key. We initially believed this color to be called "Not Purple" but according to the leaked packaging, it will be regarded as "Purple-ish". This will be a subtle, light purple.
As for pricing, Lee reports that the Pixel 3a will be priced at $399 and the 3a XL will go for $479. If Google manages to put a premium-level camera in a midrange device, it might see great success with the 3a and 3a XL, especially in markets where the Pixel 3 and Pixel 3 XL were simply out of reach due to its very high price-point.
Rumors point to a Snapdragon 670 CPU and 4GB of RAM, but we wouldn't rule out 3GB of RAM considering the Pixel 3 and 3XL both have just 4GB. In leaked case renders, we've also seen downward-firing speakers like they did on the first-generation Pixel, and a 3.5mm headphone jack at the top edge.
The Pixel 3a and 3a XL will be announced on May 7 at a hardware event taking place during Google I/O.
?
Redmi note 7 pro with sd 675 at 200$ : am I a joke to you? Poco f1 with sd 845: am I a joke to you? Mi 9 with sd855: am I a joke to you?
J
Why buy this when I can get a pixel 2 at half the price??!?!?