The Sony Ericsson XPERIA Play will not be the only Android phone out there that runs PlayStation games. NVIDIA announced that Tegra 2 powered smartphones and tablets will be getting the PlayStation Suite, the software platform that allows PlayStation games to run on droids.
There's no info on which Tegra 2 powered devices would be PlayStation certified (certification is used Sony to ensure quality gaming experience) but the recent high-end droids (both phones and tablets) that use NVIDIA's hardware all have enough processing power to run the games, so there shouldn't be any problems on the hardware side.
Except, of course, none of them have the dedicated gaming controls that the Sony Ericsson XPERIA Play has - the PlayStation Suite handles that by emulating the controls on screen.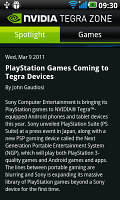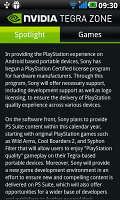 PlayStation Suite is coming to Tegra 2 devices
Several PlayStation 1 classics are coming later this year, including Wild Arms, Cool Boarders 2, and Syphon Filter. Later on, PlayStation 2 games will be added as well, which will really enrich the game library.
The announcement came over the TegraZone app, so keep an eye on it for updates.
m
great FANTASTIC i'm very glad to buy xperia play . now my brother will buy a xperia play too , SE , keep moveing your best on xperia play , cause , XPERIA PLAY IS #1 for all 10000000000000... gamers in the world :)
?
prob just have ps2 games that are crap or owned by sony so i cant see a capcom game on this yet ... i would love to see devil may cry, and street fighter, resident evil ... gotta say id joygasim if i saw them on there ... then id deff buy ... but hey...
ADVERTISEMENTS