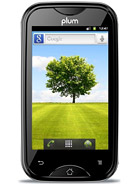 C
LOL 2G thats like 5 years back and it looks like the sony ericsson mix walkman !
Q
lol...it look like sony ericsson phone..even the UI look same...hahaha
?
hahahaha, nice phone, good phone.
are joking: they use old technology: resistive touchscreen, with CPU 416 MHz. this phone has specification of three years back.
Total of 7 user reviews and opinions for Plum Orbit.