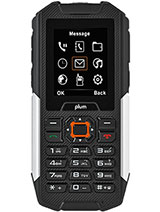 J
Just received my Ram Plus 4G, Can not find a sim card to fit. I tried four that Consumer Cellular sent me. I have had several cell phones. This first time I had this problem. I am frustrated!
A
AnonD-716026, 01 Dec 2017Samsung B2100 knockoffInterestingly though, this has a much higher IP certification than the B2100. This would be the better device in rough environments.
m
Can you use as speaker phone for a conference call ? What is the speaker use for?
m
are plum phones available in the philippines?
E
I relly unjoy d plum ram plus. its 4mb of rum is gr8. my son david, hu is a baby broke my vodafon smart prume 6
D
Yes, but you can hammer nails with your Ram Minus phone... Can you do with your smartphone? :D
D
pingas, 23 Jul 2015Should be called the Ram Minushahaha...
p
Should be called the Ram Minus
Total of 11 user reviews and opinions for Plum Ram Plus.
ADVERTISEMENTS