Display
The Poco M3 employs a large 6.53 IPS LCD display with a waterdrop-shaped notch at the top to make room for the selfie camera. The resolution is extended 1080p - 2,340 x 1,080 pixels - making for a 395ppi density. That's a relatively high resolution for the budget segment, and it gives the M3 an edge over its competitors.
The screen is protected with a Gorilla Glass 3, but Poco M3 also ships with a screen protector inside its retail box should you choose to use it.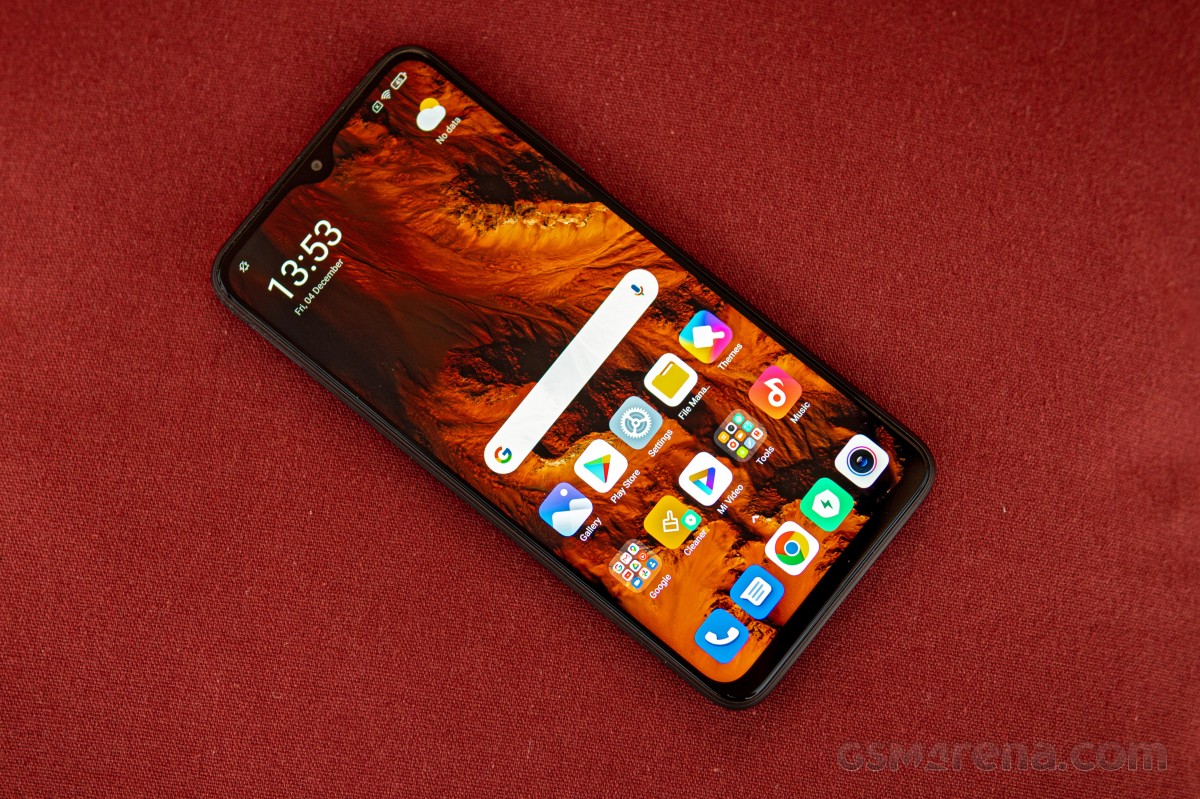 Poco promises a 1500:1 contrast ratio for the M3 screen and 400 nits of maximum brightness. In our measurements, the results were in the same ballpark.
The maximum brightness is 395 nits, while the black levels are deep enough at 0.25, and thus the contrast ratio exceeds 1500:1. The screen can be even brighter if the Sunlight Mode triggers - then it can light up as high as 440 nits in bright ambient light.
The minimum brightness we captured on the white color is 2.5nits - a perfect one for reading sessions in the dark!
Display test
100% brightness
Black,cd/m2
White,cd/m2
Contrast ratio
Poco M3
0.252
395
1567:1
Poco M3 (Max Auto)
0.277
439
1585:1
Xiaomi Redmi 9
0.202
328
1624:1
Xiaomi Redmi 9 (Max Auto)
0.253
426
1684:1
Xiaomi Redmi Note 9
0.298
370
1242:1
Xiaomi Redmi Note 9 (Max Auto)
0
466
∞
Xiaomi Poco X3 NFC
0.354
460
1299:1
Xiaomi Poco X3 NFC (Max Auto)
0.515
631
1225:1
Sony Xperia 10 II
0
379
∞
Sony Xperia 10 II (Max Auto)
0
520
∞
Xiaomi Redmi Note 9S
0.303
421
1389:1
Xiaomi Redmi Note 9S (Max Auto)
0.42
575
1369:1
Realme 7
0.31
457
1474:1
Realme 7 (Max Auto)
0.374
526
1406:1
Realme 6
0.343
451
1315:1
Realme 6i
0.328
528
1610:1
The Poco M3 offers three different Contrast settings for the display. With the Automatic contrast set to on, the screen output seems to be tuned for accuracy in the sRGB color space, and we measured an average deltaE of 4.8 and a maximum deviation of 9. Only in this mode you can choose the color saturation (default, warm, cool), and we measured a Delta E of 4.8 with the Default preset ON. Choosing the Warm preset will take care of some of that blue tint seen in Default.
The Standard Contrast setting has superb accuracy within the sRGB color space, and we recorded an average deltaE of 2.0.
Finally, the Increased Contrast makes the colors pop at the expense of reproduction accuracy.
Battery life
The Poco M3 is powered by a massive 6,000 mAh battery. The phone supports 18W fast charging, and that's good as it will probably take forever to charge this behemoth with a sluggish adapter.
The Poco M3, quite expectedly, scored an outstanding result in our battery test with a 154-hour Endurance rating - it conquered the third place in our all-time battery life chart. It did an excellent job across all test scenarios - video playback, calls, web browsing, and demonstrated long-lasting endless standby performance.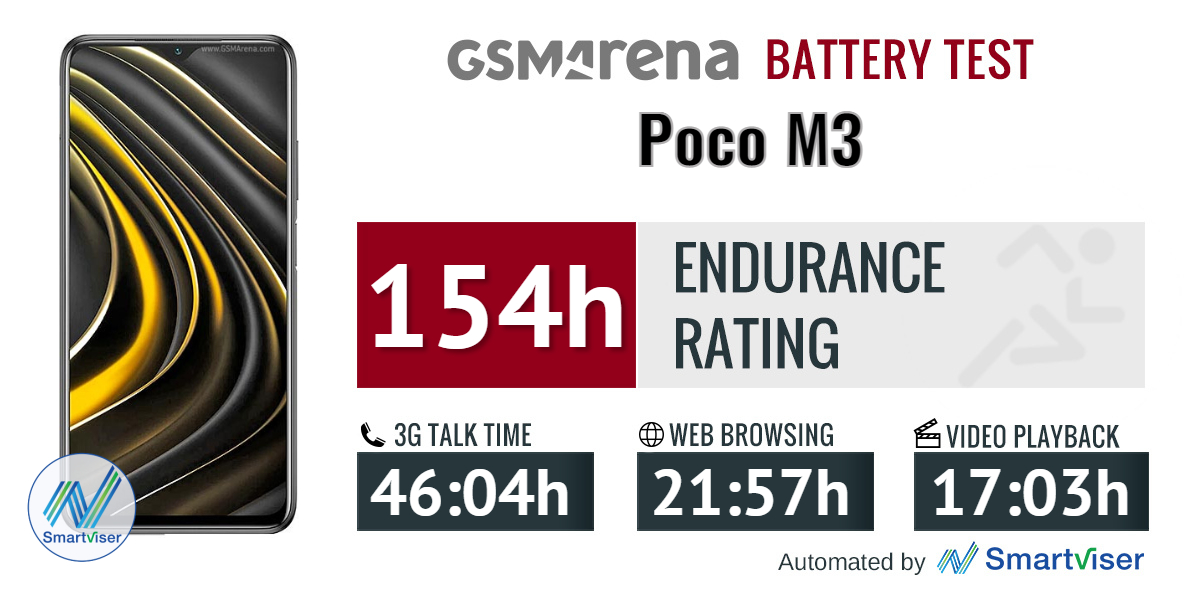 Our battery tests were automated thanks to SmartViser, using its viSerDevice app. The endurance rating above denotes how long a single battery charge will last you if you use the Poco M3 for an hour each of telephony, web browsing, and video playback daily. We've established this usage pattern so that our battery results are comparable across devices in the most common day-to-day tasks. The battery testing procedure is described in detail in case you're interested in the nitty-gritty. You can check out our complete battery test table, where you can see how all of the smartphones we've tested will compare under your own typical use.
Charging speed
The Poco M3 not only has a big 6,000mAh battery but also comes with a 22.5W fast charger to top it. Unfortunately, it is overqualified for the job as the M3 only supports charging up to 18W.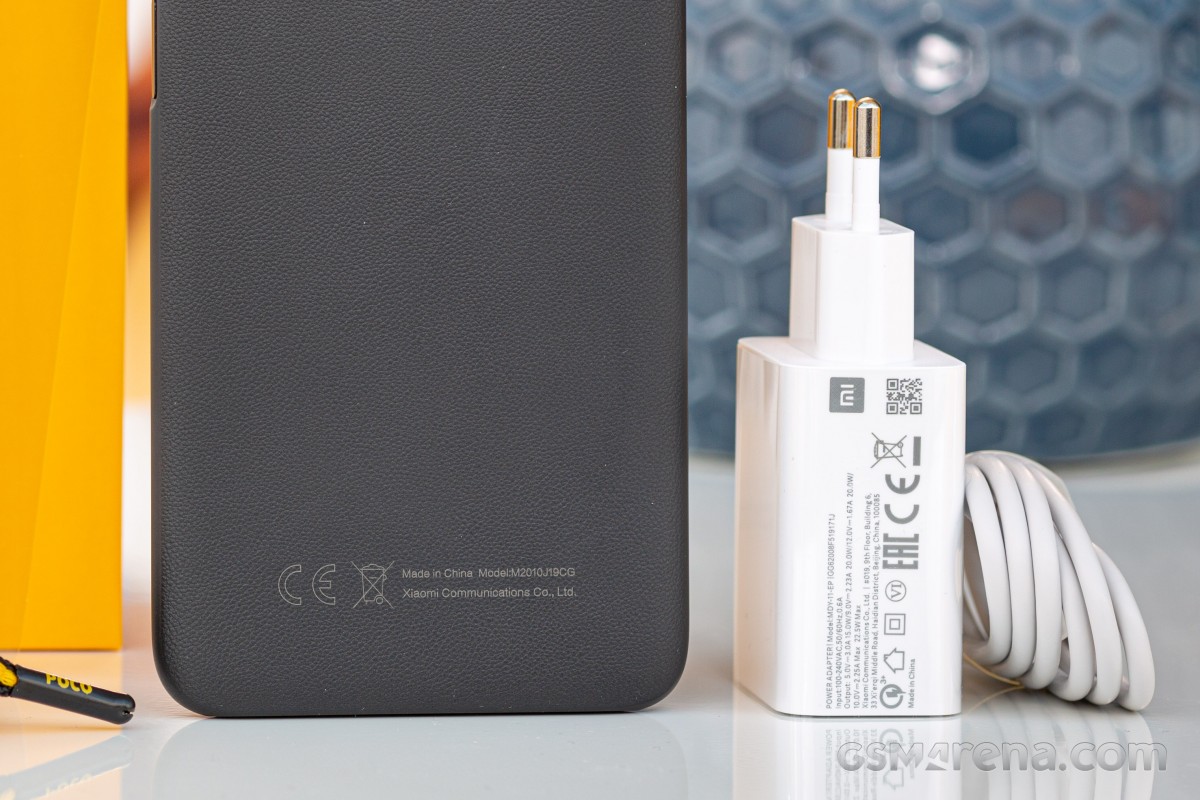 Using this charger, you can refill 25% of the battery in 30 minutes, 46% in one hour, while a full charge requires 2 hours and 59 minutes. Neither result is impressive in absolute terms, but let's not forget we are charging a massive 6,000mAh battery.
30min charging test (from 0%)
Realme 7 Pro
94%
Realme 6
70%
Realme 7
58%
Poco X3 NFC
55%
Huawei P Smart 2021
42%
Xiaomi Redmi Note 9S
37%
Samsung Galaxy M51
35%
Xiaomi Redmi 9 (18W)
33%
Realme 6i
33%
Xiaomi Redmi Note 9
31%
Poco M3
25%
Xiaomi Redmi 9
20%
Time to full charge (from 0%)
Realme 7 Pro
0:37h
Realme 6
0:51h
Realme 7
1:05h
Poco X3 NFC
1:15h
Huawei P Smart 2021
1:42h
Xiaomi Redmi Note 9S
1:45h
Samsung Galaxy M51
1:47h
Xiaomi Redmi Note 9
2:33h
Poco M3
2:59h
Speakers
The Poco M3 has a proper stereo speaker setup - the speakers are mounted on the top and bottom parts of the frame with a rather balanced output.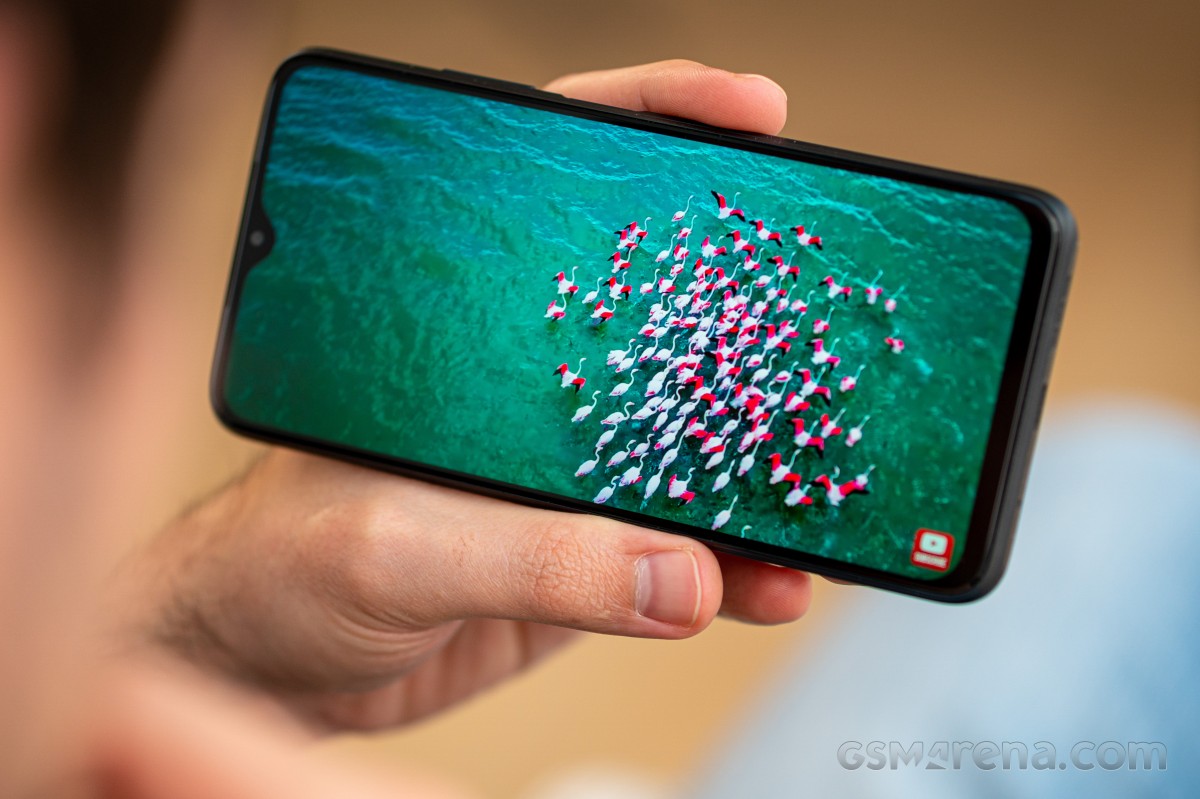 The Poco M3 scored a Good mark on our loudness test. The sound quality is outstanding, though - the M3 is one of the handful of phones to provide bass you can feel and hear; the mid-tones are superb, too. The high notes aren't as splendid as on other phones but still good enough. Overall, the Poco M3 has one of the best audio outputs we've heard in a while. Great job, Poco!
Use the Playback controls to listen to the phone sample recordings (best use headphones). We measure the average loudness of the speakers in LUFS. A lower absolute value means a louder sound. A look at the frequency response chart will tell you how far off the ideal "0db" flat line is the reproduction of the bass, treble, and mid frequencies. You can add more phones to compare how they differ. The scores and ratings are not comparable with our older loudspeaker test. Learn more about how we test here.