Qualcomm and Poco announced the new X3 phone will be the first with Snapdragon 732G chipset, and now we know exactly when it's coming - September 7 at 12 noon UTC. The brand confirmed the date on its social media pages and revealed it will be an online launch event.
Interestingly enough, the phone is called Poco X3 NFC and the moniker also appeared at the Bluetooth SIG website, where the device with model number M2007J20CG was certified. This raises the question of whether the company will have another version of the X3 without near-field communication.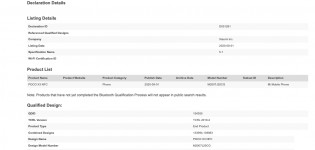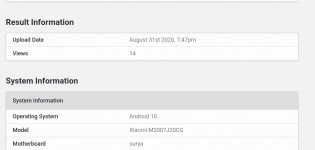 Poco X3 NFC on Bluetooth SIG and Geekbench
The phone also appeared on Geekbench with 6 GB RAM and Android 10. The Snapdragon 732G is codenamed "surya" and reaches 571 with a single core and 1766 with multiple cores. Looking at our database, the CPU results are unsurprisingly similar to the Snapdragon 720G and Snapdragon 730G, however, the difference between the chips should mostly boil down to the GPU - something Geekbench is not measuring.
?
LCD phones must be put to reat
?
The time will come very soon, in coming months if not in coming weeks, when you buy a 5G phone for a '5G bonus', not for a '5G premium'. In other words, for the same price, 5G phones will be better spec'd than 4G phones; and ...
?
The availability of $100 5G is assured before the end of the year. The next question is: When are we going to get our first $70 5G phone? With some luck, we may get it before the clock strikes 2021.
ADVERTISEMENTS